Course Outline
Go to Course Catalog for Locations, Dates and Online Registration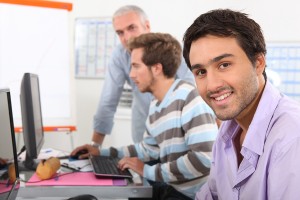 At the SEO Essential Skills Workshop, you will have a thorough grounding in the basics of search engine optimization, which will get you started in using good practices and understanding of the tools. After you pass the final exam, you'll receive certification showing that you've completed the modules and understand the concepts.
The entire workshop is hands-on and personalized to you and your classmates. You'll see demonstrations of real situations, hands-on practice of your own problems, and daily self-evaluations of each participant so we are sure you're understanding everything.
Day 1 – Search Engine Basics, Getting Results
Day 2 – Search Engine Processes
Once you have completed this course, you will receive official certification from our program, and leave with a firm grasp of how to successfully connect to your customers through the Internet.
Day 1 – Search Engine Basics: Getting Results
Learn our step-by-step, stress-free system for gaining top Web visibility and exposure.
By the end of Day 1, you will have a good grasp on how to perform Keyword Research and how to work with your content in the correct sequence of operations for maximum impact. You will have a good understanding of current on-site influences, as well as step-by-step methodology.
The day's lessons will include:
Our 6-step process for gaining top internet rankings in major search engines
How to identify what your ideal audience is searching for online
Easy ways to tap into huge windows of opportunity instantly without stress
How to utilize the most powerful keyword research tool, WordTracker
A study of top-performing Web pages and why they are so successful
How to optimize your pages without fooling around with code for hours
and more!
In addition, you will receive direct coaching from the program directors on your own Web pages in order to address your personal questions and concerns, concluding in an evaluation benchmarking your progress.
Day 2 – Search Engine Processes
Finishing up with the most effective ways of getting your Web pages indexed.
By the end of Day 2, you will thoroughly understand how to optimize your pages manually by using our 6-step system. You will know which search engines and directories should be focused on for the best results, how to build link reputation and popularity, along with an awareness of all the ways to avoid being penalized accidently.
The day's lessons will include:
The advantages and disadvantages of Paid Inclusion
How to monitor your Web visibility and measure progress
How to get your pages indexed and accepted
Methods for staying out of trouble with search engines
Directory tutorials
Introduction to Blogging: the power of working with blogs, how they work, the advantages of blogging strategies, and blog search engines
and more!
In addition, each attendee gets a new "working tool" in the form of a Prioritized SEO Action Plan, designed to easily capture dozens of points for future reference, and to ensure that students maximize the value of their training and information retention.
All participants will have the opportunity to have their Web site reviewed by their peers, through group participation exercises and evaluations.
SEO Essentials Certification
The course concludes with an online course examination and certificates being awarded.
Go to Course Catalog for Locations, Dates and Online Registration