A Quick Recap on Links
Before we get into this SEO How-to, let's start with a bit of review.  There are three basic types of links that affect your Search Engine performance:
Inbound Links – Links from a website you don't control (theoretically) to your website
Outbound Links – Links you place on your website to someone else's webset
Internal Links – Links from one area of your website to another area of your website
Today I'm addressing internal linking.  Many website owners feel that once they have useful navigation and a sitemap, they have covered their bases for internal linking.  That's like thinking once you have your pants and socks on you're dressed…not so fast, my dear scantily-dressed Web optimizer.
The Importance of Placing Internal Links in the Body of Your Content
Because of the way Google develops their understanding of your site, it's important that you have keyword-rich links placed in the text of your pages surrounded by more keyword-relevant content.
Rather than give you a bunch of blah, blah, blah, let's skip that and go straight to an illustration.
Let's say I'm optimizing a page on an ecommerce website for "Womens bicycle jerseys."  Let's furthermore say that I've set up a page that details different design features of womens bicycle jerseys that are important to a shopper (i.e., we're providing useful content).  At the same time we have a catalog page with a bunch of different womens jerseys that can be purchased.  So a simple flowchart would look like this: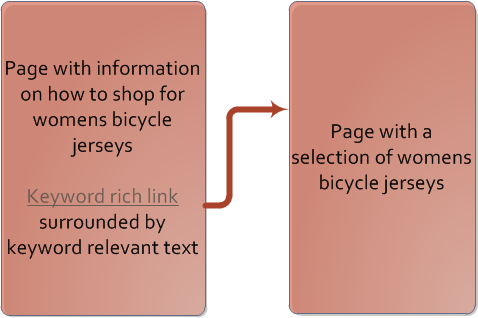 So first let's create some keyword-relevant content.  This will help Google to understand what the text surrounding your page is about.  And we want them to understand that the page is about women's bicycle jerseys.  So our paragraph might read like this (note that I've put keyword-relevant text in red):
Most women's bicycle jerseys nowadays are made out of high-tech synthetic fabrics.  This is a good thing, because those fabrics are designed to wick moisture away from your body while you ride.  Your cycle clothing needs to keep you feeling cool and comfortable.  Our women's bicycle jerseys are also tailored to fit differently than cycling jerseys for men.  They tend to be smaller, with less bulk in the shoulders.  And of course you want your jersey to have a pretty substantial zipper on the front.  Many women will wear a matching sport bra under their top on bike rides so they can unzip and stay modest and coordinated all at the same time.
Note that the paragraph substantiates the idea that its topic is bicycle clothing.  Additionally, we've placed our keyword phrase, "women's bicycle jerseys" as a link within that relevant copy.  All of this tends to add much more keyword punch to the internal link we've created, and therefore enhanced its value substantially.
I hope you've found this SEO tip useful.  Why not sign up for our SEO Tips newsletter, so you can get useful content delivered to your inbox as it becomes available.