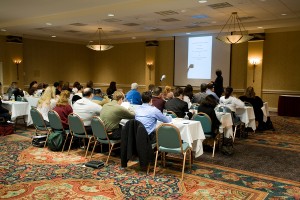 Hate learning from an endless stream of disconnected webinars, YouTube videos and blog posts? Our SEO training classes are coherent, comprehensive and in your face (in a good way).  Best of all, we offer live SEO training in Denver.
(Note: All of our training is done in association with the Search Engine Academy, a worldwide SEO training alliance.)
With the growth of online education, it's becoming more and more difficult to find learning opportunities in the type of setting that so many of us thrive in, the small classroom. By keeping our class size small, we're able to personalize the experience for every student.
However, for those who enjoy learning at their own pace, we offer a more convenient and affordable online course "Real World SEO: Essentials" through our friends at Udemy. Take a look at the Real World SEO promo video and see if online learning is right for you.
Our instructor Ross Barefoot makes sure nobody exits one of our workshops without a personalized action plan for applying what you've learned to your specific situation.
Want SEO Training? Here Are the Classes that We Offer in Denver:
Getting Started with SEO
2-Day SEO Essentials – This course is designed at a basic level and will get you up to speed on the essentials you need to understand and work in the world of Search Engine Optimization.
Take SEO to the Next Level
3-Day SEO Advanced – If you already have a good grasp of Search Engine Optimization fundamentals, this class will take your skills to the next level.
From 0-60 in Just 5 Days
5-Day SEO Mastery – This 5-day course is simply the 2-day essentials course followed by the 3-day advanced course.  We normally recommend this to anyone who wants to make sure their foundations are solid, and then wants to move immediately into implemented proven techniques.
If you look at our course catalog you'll see a ton of dates and two different venues in Denver, Colorado and Salt Lake City, Utah.  Please join us!