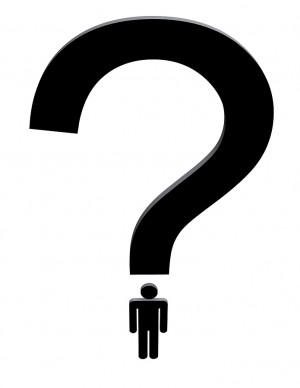 Let's start by understanding one thing up front: most of you reading this are not Google's primary customer.  It doesn't matter if you spend 10 bills a month on Adwords, or subscribe to Google App services.  Google's customer is the lowly internet searcher, hunched over his or her glowing monitor, trying to find something to help them get on with, well, whatever they have to get on with.  And Google wants to please their customer.  That's how they make money off of their secondary customer, advertisers.
What is Google's Search Personalization?
One of the ways Google is using to please their customer is personalization.  This is the practice of delivery search results that are customized to the individual.  They want to provide the searcher with that "wow" moment when they think, "Wow!  That's just what I was searching for…how did they know???"
Here are the important factors that Google takes into account in trying to deliver the most personalized search results possible:
A profile set up with Google+ (i.e. social signals)
A gmail account with its associated identity markers
The geographic location of your i.p. number (read more about using i.p. numbers to identify a geographical location here)
The search history of the computer you are on
Toolbar data (data they collect from the Google toolbar on your browser, if you have one installed)
I just reviewed a good, fairly recent article by Katherine Griwert over at brafton.com about search personalization and social media factors.  It's based on an SMX conference symposium where Jack Menzel of Google and Rangan Majumder of Bing gave some "horse's mouth" insights on the subject.  I found this screen capture from Mr. Menzel's presentation very enlightening: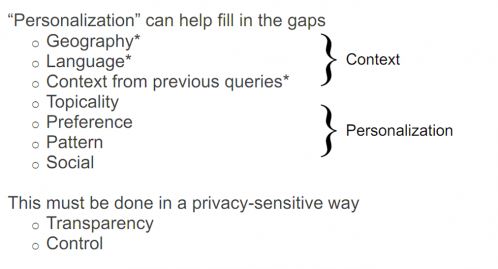 Note the variety of factors at work here.  It's not so much that you understand how Google deals with each one, at least not for the purposes of this blog post, but rather that you understand the vast array of variables here.  The impact that has on SEO, particularly for those of us who work for clients, is that search rankings have become increasingly irrelevant as a way to convince your client that they are making progress or not making progress.
Here's another screen capture that shows the results of this process at work: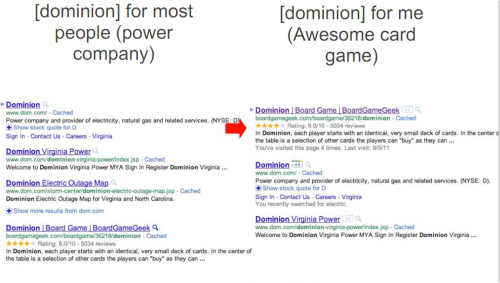 This shows the dramatic difference in search engine results based on Google's understanding of the profile of the searcher.  The result set is totally different.
In most cases this does deliver a better product to Google's customer (Remember them?  The searcher?).  However it creates significant challenge in terms of tracking results, and perhaps more importantly, in managing the expectation of that particular breed of client that obsessively checks ranks to see whether their SEO program is bearing fruit.
In later posts I'll deal with both these issues in greater depth.