Let's say you're searching for something specific. For example, let's say you want to celebrate your love of both cycling and Colorado on your next bicycle club ride.  You don't have much time, after all, you're late for work…but this will just take a second.  You need to make every click count.  You enter "colorado cycling jersey" to Google and wait hopefully and impatiently for the 36 hundredths of a second that Google needs to process your search.  When it comes back, it looks like this: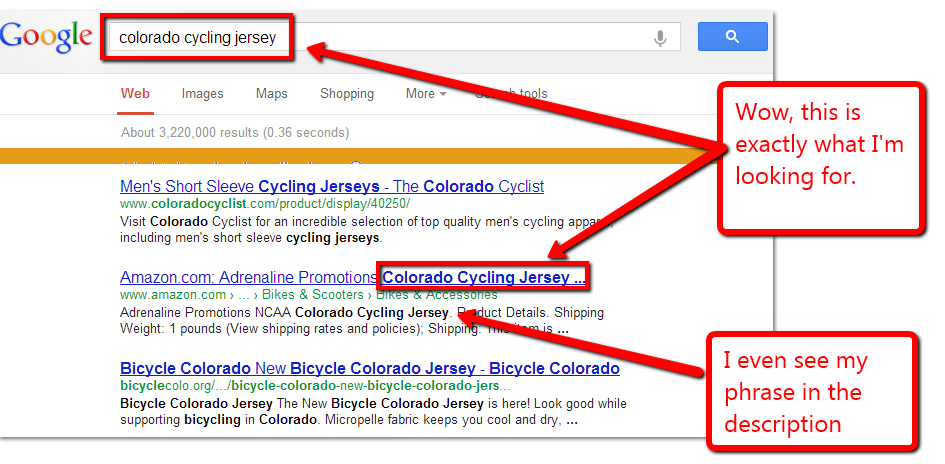 Click, click, click.  Your jersey is on the way and you make it on time to work.  How grateful you are for that very relevant search engine listing…which happened to be in the number two spot on the page.
Everyone knows what an advantage it is to be number one in search, but based on my own experience, in this type of situation a number one placement is less important than matching the intent of the searcher.  And the best way to match that intent is not only to match their search query, but to make sure they notice that you matched their search query.  Google can help you with this, by formatting the search term in nice, clearly seen boldface font.
This starts out, of course, with good keyword research.  But once you target a money phrase by creating a page with relevant body copy, headlines, etc., you're not done.  You need not only to rank well, but you need to get the searcher to click on your listing.  In the example I'm using, would I be more interested in any cycling jerseys from a vendor with the word "Colorado" in their company name?  Or would I be more interested in a listing that matched what I searched for?  I would say that it's the latter.
In most cases, the heading of the listing in the search results (in the case of the number two listing above it's "Amazon.com: Adrenaline Promotions Colorado Cycling Jersey) comes from the title tag of the page, and the listing description, which in this case is:
Adrenaline Promotions NCAA Colorado Cycling Jersey. Product Details. Shipping Weight: 1 pounds (View shipping rates and policies); Shipping: This item is …
…comes from the meta description tag of the page.  So that's where we need to make sure that our optimization is not merely focused on rankings, but also on conversion.
Let's take a real-world page that my team recently optimized.
The keyword phrase we were focusing the page on was "car tune ups las vegas."
For those of you playing at home, how would you optimize the title tag and meta description tag so that the listing in the search results is most likely to attract the clicks of the searchers who typed in "car tune ups las vegas"?
Tick, tock, tick, tock… what did you come up with?  Take a look below the clock image to see how we did it.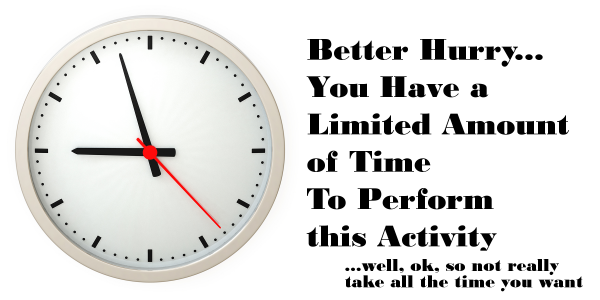 Here are the title and meta description tags that we started out with, and what they looked like after we tweaked the text.  I've bolded the words that would be bolded in a search engine results page for "car tune ups las vegas."
Title Tag Optimization

Before

After

Car Tune Ups | The Brake Shop | Las Vegas 702-631-4300
Car Tune Ups Las Vegas | The Brake Shop | 702-631-4300
Comments: This original tag was optimized well for local search, with the city and the phone number present.  However we can do a bit better.
Comments: By repositioning Las Vegas we lose none of the geographical targeting, but we improve our chances of a click by keeping the words that will be bolded in the search results together.  This is also called proximity.
Meta Description Tag Optimization

Before

After

Keep your vehicle's engine is running at ideal efficiency with regular car tune ups. Get a your tune up from a Master Mechanic at The Brake Shop.
Get your tune up from a Master Mechanic at The Brake Shop, offering car tune ups in Las Vegas to keep your vehicle's engine running at ideal efficiency.
Comments: This is a good tag in itself because it endeavors to engage the searcher.  But again, we can make it even better.
Comments: By adding Las Vegas and changing the flow of the text we lose improve the relevancy of the description to the search query and we help the searcher to connect more immediately with the description.
This simple technique requires nothing more than some awareness and creativity and will improve the effectiveness of your search engine results listings significantly.  Use this as an opportunity to inject some creative fun into your SEO efforts.
Happy conversions!